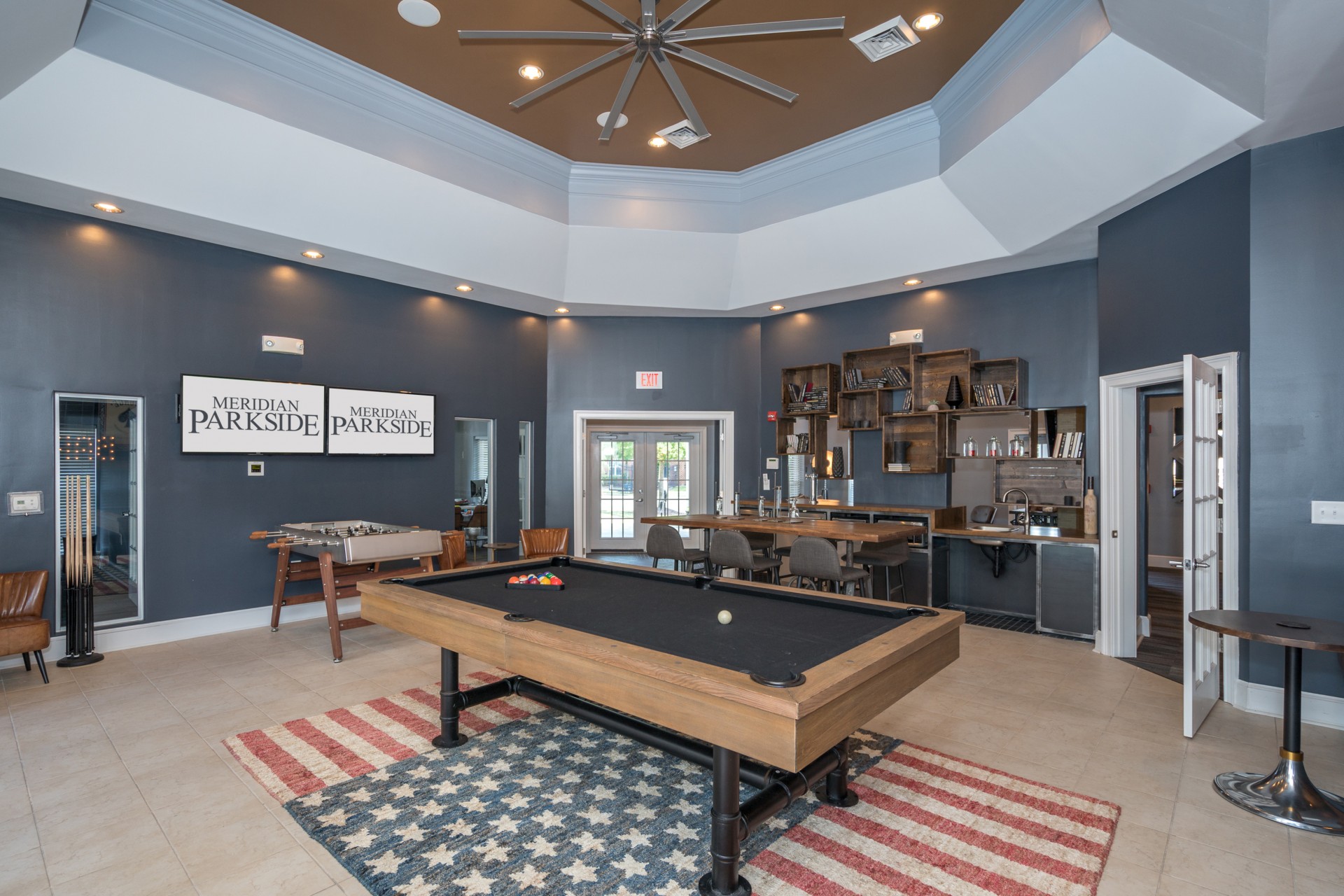 Your Review
Submit a Review

Resident Reviews
Great place to live.
|

Recommended: Yes
Very Friendly|Recommended: YesI enjoy living in the community. The staff is very thoughtful and always finds events for the community. Thank you
Beautiful Property with friendly staff|Recommended: YesMeridian Parkside is a beautiful community to reside in. The staff members are friendly and the apartments are stunning.
Great place to stay|Recommended: YesAwesome place definitely would recommend to anyone looking for a nice neighborhood to call home
Everything you could need in a community|Recommended: YesWe love that we have a garage for our second car near our building. The staff here are awesome. The ladies in the office have always been kind, helpful and welcoming-even when I'm just passing through on my way to the gym. The gym is really great-it's got everything you could need and we love having that here and use it frequently. We can't wait to try the pool and grills when it gets warmer. The maintenance staff are also kind and professional they responded to the issue I had with my dryer appropriately and always offer a friendly smile when I'm out walking my dog around the community. Some of the guys even know my dog by name and always say hello, he loves it We also love that we can have our bigger dog here the pet rent is totally reasonable. There are plenty of places to walk with your dog on shorter walks, and Sandy Bottom Park is only about a mile walk away, so we go there frequently. The community is also gracious enough to provide plenty of grassy areas with poop bags and trash cans I seriously do not understand the people who do not take advantage of this but I think the community is cracking down on leaving dog waste so hopefully I'll see less . We've lived here about 4 months now and our biggest complaint is the electricity bill... of course the community can't control dominion power, but it is outrageous. We live on the top floor, facing the parking lot, so we don't have a lot of insulation... you can literally feel a cool breeze coming through outlets on the exterior wall. We insulated the windows because we were losing a lot of heat there too we saw a modest improvement in our bill this month but are hoping it gets better when it warms up. We did just move from a house with solar panels and we literally never paid any power bill we got money BACK every month so we're pretty jaded, ha Overall, Meridian Parkside Apartments have everything you could need in a community, it is mostly clean, tidy, safe and quiet. Generally, we feel pretty safe here. We think the rent and other fees garage, pet are reasonable. We're happy to have found it for our time here in Virginia
The property is really nice|Recommended: YesIts lovely living here and very peaceful.
Great|Recommended: YesHelpful Staff
Maintenance|Recommended: YesMaintenance was amazing We had to wait a little longer than we anticipated but, they were super friendly, and they completed the job in less than 10 minutes.
Must see|Recommended: YesGreat place to live, work and play. Staff our great. Maintenance our friendly.
I love it here and im going to miss it|Recommended: YesI'd have to say that this is a very peaceful area which is why i choose to live here and i place i would highly recommend.
So far so good|Recommended: YesI've lived here for two years, and I haven't had any trouble or concerns. Clean and professional. I don't intend on moving anytime soon.
Great staff , great location|Recommended: Yeswonderful place to live, design of the apt. is great. walking distance to anything . nature park next door, what more could you ask for.... love it
I love the propert wish there was a playground and a extra parking spot|Recommended: YesLove it
A Very Pleasant place to reside|Recommended: YesI love it...the staff is very nice and friendly as well as the neighbors. The area is nice and quiet and no major issues in the complex. I love the fact that it is gated and the fact that the units have elevators as opposed to most apartment complexes
Great property|Recommended: YesGreat place to stay, very quiet not much or any noise in the building I stay in. Great staff , they really help you out, only problem I do have is when the gate is down the other key fob entrances are also down, so that includes the gym, which the only time I have to access that is early in the morning and use I work all day when I get off the office is closed. so if that could be fixed I wouldn't have a problem with this place at all.
The views and opinions expressed herein are solely those of the original authors and other contributors. These views do not reflect the views of "Meridian Parkside", its owners, managers, agents, employees or content providers. No representation or warranty, express or implied, is made or given by "Meridian Parkside", its owners, managers, agents, employees or content providers regarding safety, accuracy, completeness or suitability of the information or material expressed herein for any particular purpose